TBMP Volunteers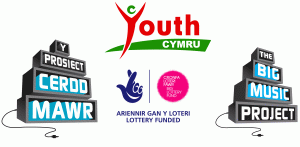 The Big Music Project Live in Cardiff Volunteer Opportunities
Find out what your future sounds like at The Big Music Project LIVE in Cardiff. Experience the backstage of the music industry, with reps from all areas, jobs and roles within the industry all under one roof – ready to show YOU how to get to where you want to be.
We have a very limited number of volunteer opportunities available for Big Music Champions at this event. So if you want to have an amazing experience and a great role to put on your C.V get yourself signed up now!
Y Prosiect Cerdd Mawr yn Fyw yng Nghaerdydd Cyfleoedd i Wirfoddolwyr
Dyddiad: 11 Hydref 2014
Lleoliad: Canolfan Mileniwm Cymru
Dewch i glywed eich dyfodol gyda'r Prosiect Cerdd Mawr FYW yng Nghaerdydd. Dewch i gael profiad cefn llwyfan o'r diwydiant cerddoriaeth, gyda chynrychiolwyr o bob maes, swydd a rôl yn y diwydiant o dan yr un to – ac yn barod i ddangos i CHI sut i gyrraedd eich nod.
Mae nifer gyfyngedig iawn o gyfleoedd gwirfoddoli ar gael i Hyrwyddwyr Cerdd Mawr yn y digwyddiad hwn. Felly os ydych chi am gael profiad mewn rôl wych y gallwch ei gynnwys ar eich CV, ymgofrestrwch nawr!
Cadw'r Atebion a Dod Nôl Wedyn!