Megan Wigley Jones
Megan Jones was one of our amazing volunteers at The Big Music Project. The 21 year old from Pontyclun snapped away at artists, stalls and the venue throughout the day. Megan first became interested in photography at University where she studied Media Production. Throughout her time at University she collaborated with other courses and began photographing for them. It became her favourite part of her degree and soon discovered that she could do more with her new favourite hobby. Megan didn't have any professional experience until she volunteered at The Big Music Project; however now she can say that she has photographed the likes of Plan B, Becky Hill and Rydian Roberts.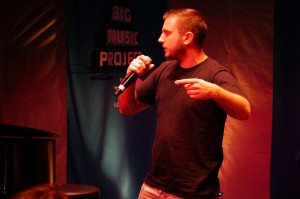 I asked Megan what she took away from the event she explained that;
I was really excited to be part of the day but I was also really nervous about it. There is so much going on behind the scenes of the music industry that I didn't know about, but now I have more of an idea. Everyone around had a really positive attitude and told us don't give up. It was an excellent day.
What did you feel the highlight was for you?
For me it was listening to Becky Hill's Q&A. Her set was quite short with only 3 or 4 songs which I was SO gutted about as I could've watched her all day but regardless, she did it justice! I stood there with my trusty camera at the very front, snapping away and singing along to all the songs!
If you could change anything what would it be?
Next time I would definitely sign on to the workshops. They looked really good and gave some excellent advice to people who wanted to go into the field
Megan would love a career in the music industry, not necessarily centre stage, but behind the scenes, perhaps working on the stage management and lighting or becoming such an amazing photographer those big name artists will be calling her to come to their gigs. Megan is also a blogger, and a pretty great one at that! This is definitely something to check out, learn how to make toffee apples and a little more about her experience at The Big Music Project!
We wish Megan all the best and one day we will be seeing her incredible photography in the celebrity magazines!
Check out her amazing blog here: http://meganwigley.wordpress.com/category/blogs/
And here is her twitter: https://twitter.com/MWigleySongs