Trans*Form Cymru Steering Group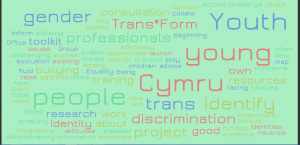 Are you aged 11-25? Do you identify somewhere on the trans* spectrum or are gender questioning?
Would you like the opportunity to lead an exciting project promoting the rights of trans* young people in Wales?
Youth Cymru is a charity supporting young people across Wales. We have received funding from the Welsh Government for Trans*Form Cymru, a three year project aiming to improve understanding of trans* and non-binary gender identities among professionals who work with young people across Wales.
We will be forming a Steering Group of young people who relate to being trans* to lead the project with Youth Cymru.
Opportunities:
As part of the Steering Group, you'll have the opportunity to develop new skills, attend local and national events, take part in training and shape a project which will improve the lives of trans* young people across Wales.
Develop and deliver training to improve awareness of gender identity among young people and professionals who work with them.
Create a Charter of good practice to ensure that organisations are supporting young people whatever their gender identity
Have your voice heard at United Nations Convention on the Rights of the Child event in July 2014. The UNCRC protects and promotes the rights of children and young people and you'll inform a United Nations report on trans* young people's rights in Wales.
..and much more!
If you would like to be part of the Steering Group or to find out more, please contact Rachel at transform@youthcymru.org.uk