Hackathon 2018
[av_one_full first min_height=" vertical_alignment=" space=" custom_margin=" margin='0px' padding='0px' border=" border_color=" radius='0px' background_color=" src=" background_position='top left' background_repeat='no-repeat' animation="]
[av_textblock size=" font_color=" color=" av-medium-font-size=" av-small-font-size=" av-mini-font-size=" av_uid='av-jpl0guvp' admin_preview_bg="]
Hackathon 2018
[/av_textblock]
[/av_one_full][av_one_full first min_height=" vertical_alignment=" space=" custom_margin=" margin='0px' padding='0px' border=" border_color=" radius='0px' background_color=" src=" background_position='top left' background_repeat='no-repeat' animation="]
[av_image src='https://youthcymru.org.uk/wp-content/uploads/2018/12/Img_181212101739192-1-1030×501.jpg' attachment='9016′ attachment_size='large' align='center' styling=" hover=" link=" target=" caption=" font_size=" appearance=" overlay_opacity='0.4′ overlay_color='#000000′ overlay_text_color='#ffffff' copyright=" animation='no-animation' av_uid='av-jpl1gbzw' admin_preview_bg="][/av_image]
[/av_one_full][av_one_full first min_height=" vertical_alignment=" space=" custom_margin=" margin='0px' padding='0px' border=" border_color=" radius='0px' background_color=" src=" background_position='top left' background_repeat='no-repeat' animation="]
[av_textblock size=" font_color=" color=" av-medium-font-size=" av-small-font-size=" av-mini-font-size=" av_uid='av-jpl14tsy' admin_preview_bg="]
Early Start!
—
Hackathon December 2018 – what a great day! 5 Youth Workers and 22 Young People from Wales traveled to London on Saturday 8th of December, Gelli Deg, The Willows and Ynysybwl, leaving Merthyr at 6am!!! Some Young People had been in our Midnight Skate the night before and didn't get back until after 3am!
We arrived at 10am after 4 house travelling!
Tea and coffee on arrival and more pastries than Greggs! We all tucked into croissant and pan au chocolate but great seeing young people going for the fruit!
The Panel started promptly, Microsoft member of staff, Director of Mind of my Own (app that gives young people a voice) which I really want to look into getting involved with, a 15 year old young person who has developed an app after the devastating Grenfell Tower and UK Youth intern
After been inspired by the panel all the young people in the room (around 100) split in their groups and chose a topic from the board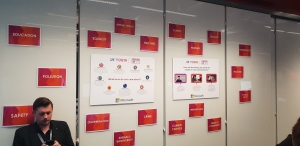 From education, bullying to homlesness we had a lot of issues that we care about and a problem we can resolve through TECH
They youth people came up with an different ideas to solve a problem, researched, worked as a team and came up with a prototype! And finally presenting the product
All groups worked very well together, communicated brilliantly with other young people, Stem Ambassadors and Microsoft Interns. Im sure they enjoyed the whole experience.
[/av_textblock]
[/av_one_full][av_one_full first min_height=" vertical_alignment=" space=" custom_margin=" margin='0px' padding='0px' border=" border_color=" radius='0px' background_color=" src=" background_position='top left' background_repeat='no-repeat' animation="]
[av_textblock size=" font_color=" color=" av-medium-font-size=" av-small-font-size=" av-mini-font-size=" av_uid='av-jpl15rjo' admin_preview_bg="]
The results are in!!!!!
—
After a fun day at the Microsoft Reactor in London, the results are in.  The Runners Up and the Winners of the Hackathon were from our hubs in Wales.  Young people from both Gelli Deg and The Willows . I felt that the young people involved had some challenges today, from technology to public speaking but I really feel that they overcame that.
Just wanted to say thank you for all the Generation Code hubs this year, and especially Ynysybwl, The Willows and Gelli Deg for coming with me to London to experience the Hackathon, I really hope you enjoyed the day event, and the early start was worth it.
Here's to next year! Come on Wales!!!!
[/av_textblock]
[/av_one_full][av_fullscreen size='extra_large' image_attachment=" animation='slide' autoplay='false' interval='5′ control_layout='av-control-default' av_uid='av-jpl1ut11′]
[av_fullscreen_slide id='9017′][/av_fullscreen_slide]
[av_fullscreen_slide id='9018′][/av_fullscreen_slide]
[av_fullscreen_slide id='9019′][/av_fullscreen_slide]
[av_fullscreen_slide id='9020′][/av_fullscreen_slide]
[av_fullscreen_slide id='9021′][/av_fullscreen_slide]
[av_fullscreen_slide id='9022′][/av_fullscreen_slide]
[av_fullscreen_slide id='9023′][/av_fullscreen_slide]
[av_fullscreen_slide id='9024′][/av_fullscreen_slide]
[av_fullscreen_slide id='9025′][/av_fullscreen_slide]
[av_fullscreen_slide id='9026′][/av_fullscreen_slide]
[av_fullscreen_slide id='9027′][/av_fullscreen_slide]
[av_fullscreen_slide id='9028′][/av_fullscreen_slide]
[av_fullscreen_slide id='9029′][/av_fullscreen_slide]
[/av_fullscreen]
[av_one_full first min_height=" vertical_alignment=" space=" custom_margin=" margin='0px' padding='0px' border=" border_color=" radius='0px' background_color=" src=" background_position='top left' background_repeat='no-repeat' animation="]
[av_textblock size=" font_color=" color=" av-medium-font-size=" av-small-font-size=" av-mini-font-size=" av_uid='av-jpl16y6h' admin_preview_bg="]
Quotes
—
"Thank you again, we all had an absolute blast on Saturday"
[/av_textblock]
[/av_one_full][av_hr class='full' height='50' shadow='shadow' position='center' custom_border='av-border-thin' custom_width='50px' custom_border_color=" custom_margin_top='30px' custom_margin_bottom='30px' icon_select='yes' custom_icon_color=" icon='ue808′ font='entypo-fontello']
[av_one_full first min_height=" vertical_alignment=" space=" custom_margin=" margin='0px' padding='0px' border=" border_color=" radius='0px' background_color=" src=" background_position='top left' background_repeat='no-repeat' animation="]
[av_textblock size=" font_color=" color="]
You might be interested in…
—
[/av_textblock]
[/av_one_full]
[av_blog blog_type='posts' categories='37' link='category' blog_style='blog-grid' columns='4′ contents='title' content_length='content' preview_mode='auto' image_size='portfolio' items='4′ offset='0′ paginate='yes' conditional="]