ReachOut
YEAR 2 APPLICATIONS ARE NOW CLOSED!
Watch this space for the upcoming release of the year 2 hubs.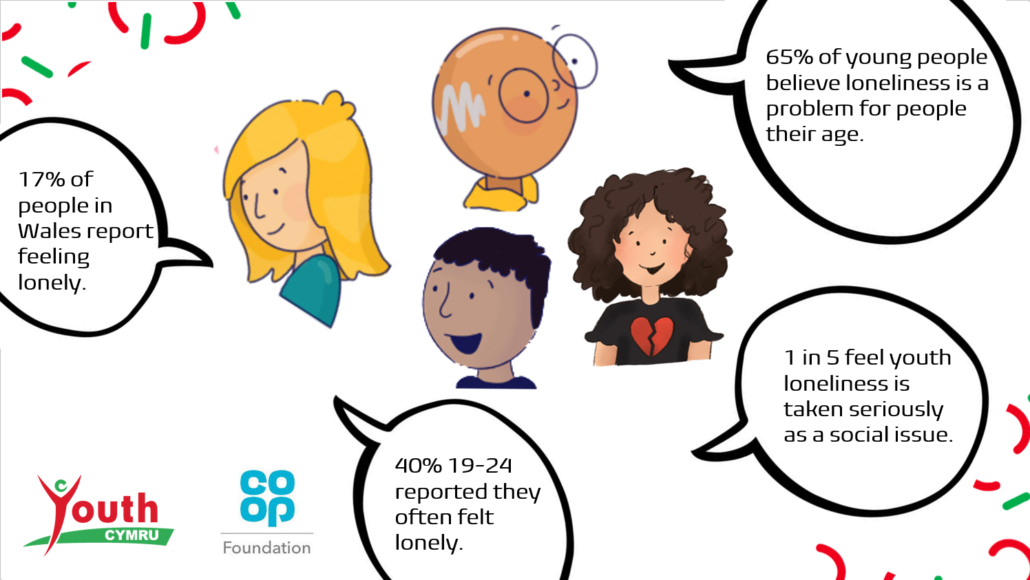 The ReachOut project is funded by The Co-Op Foundation, and focuses on working with young people across Wales who are at risk of experiencing loneliness, social isolation and related negative consequences. Our ReachOut Hubs deliver a programme of activities and support, including bespoke workshops exploring the theme of youth loneliness in Wales.
Following our 2019 ReachOut pilot year, we have been successful in securing additional funding from Co-op Foundation to expand the project in 2019-21. ReachOut has been working with a wide range of youth organisations and individuals to educate and empower young people (aged 14-25) around youth loneliness in Wales.
Young people have been participating in creative workshops, as well as developing their own social action projects to address loneliness within their communities. These social action projects are youth lead and run, with the young people identifying something in their communities that is affected by youth loneliness. Last year one hub chose to run an intergenerational tea dance for their social action project, while another created well-being stockings to give to women living in homelessness within their community.
To support our hubs we have created a free toolkit filled with a range of activities and workshops to help young people explore loneliness and plan their social action projects. This toolkit is available in English and Welsh and can be found further into this page where you can download it for free.
The monthly ReachOut workshops are a safe space where young people can take part in a movement to tackle youth loneliness through fun creative activities. Between the workshops there is an opportunity for weekly communication through the ReachOut online platforms: twitter (@youthcymru), facebook (@ycreachout). The project supports young people to develop confidence and self-esteem, reduces social isolation and works to address the stigma of loneliness among young people.
Sounds interesting? Want to get involved? Find your closest hub below…
Mess Up The Mess
46 College Street, Ammanford, SA18 3AF
@MessUpTheMess
http://messupthemess.co.uk/
Newtown Youth Club
County Council County Hall, Llandrindod Wells, Powys, LD1 5LG
@YouthclubNewtown
www.youth.powys.gov.uk
Crosskeys Youth Centre
Pandy Park, Crosskeys, NP11 7BS
@Youth4u
Reality Theatre Company
Robins Lane Studios, Newport, NP20 1EZ
07557300298
therealitytheatrecompany@gmail.com
During the project we hold ongoing steering group meetings. This meetings are open to all young people and professionals who are interested in tackling youth loneliness in Wales. We discuss the plan, plans moving forward and the up coming events in Spring 2020. Keep your eye out for the next meeting dates below.
Steering group meeting dates;
13th September 2019, 2-4pm
26th November 2019, 4-6pm
10th December 2019, 5-7pm
15th January 2020. 4-6pm
17th February 2020, 4-6pm
23rd March 2020, 4-6pm
If you are interested in attending the group please contact Kirstie, her details can be found at the bottom of the page.
Upcoming ReachOut events:
Tackling Youth Loneliness in Wales
Tuesday 21st April 2020, 12:00-1:30
Pierhead Building, Cardiff Bay, CF10 4PZ
Sponsored by Julie Morgan AM, Deputy Minister for Health and Social Services.
The event will celebrate ReachOut, a movement to tackle youth loneliness in Wales. The event will showcase the work of young people and youth work organisations who have been working to tackle youth loneliness in their communities.
The ReachOut project is funded by The Co-Op Foundation and focuses on working with young people across Wales who are at risk of experiencing loneliness, social isolation and related negative consequences. For further information, please visit: https://youthcymru.org.uk/reach-out/
For further information, please contact Kirstie via kirstie@youthcymru.org.uk. Please state any dietary and access requirements.
#ReachOut

Reach Out is a project that enables young people between the ages of 14 to 25 years old, to reflect on their own experiences of loneliness whilst taking action to address the stigma around the subject. Through this project young people will be able to take real actions to reduce isolation and create more belonging within their communities.

As part of the project your organisation will deliver a minimum of eight loneliness workshops and activities with the assistance of a provided toolkit, with the aim for young people to develop social action projects.
You will be provided with a budget of £1000 for the project.

Submission for applications will be open Monday 3rd February until Friday 21st February 2020.
In the week commencing 24th February, we ask for a telephone conversation to support your application.

If your organisation is successful you will be expected to attend a train the trainer session between Tuesday 28th and Thursday 30th April 2020, at the Youth Cymru offices.

For further information or questions please contact Kirstie & Anna via projects@youthcymru.org.uk /01443 827840.

ReachOut Community Celebration Event

Saturday 28th March 2020, 11am-4pm.

Cathays Community Centre, Cardiff

Funded by The Co-Op Foundation, ReachOut focuses on working with young people across Wales who are at risk of experiencing loneliness, social isolation and related negative consequences. Throughout the year our ReachOut Hubs deliver a programme of activities and support, including bespoke workshops exploring the theme of youth loneliness in Wales.
11-25 year olds and professionals working with young people are invited to attend this celebration of the end of year 1 of the ReachOut project.
The day will be full of workshops and performances run by professionals and young people around youth loneliness and related issues. Workshops to be announced shortly.
Lunch provided. Please contact event organiser Kirstie with any dietary or/and access requirements.For more information please contact Kirstie via Kirstie@youthcymru.org.uk or 01443 827840
Kirstie Edwards
Project Co-ordinator
01443 827840
@kirstiecymru
kirstie@youthcymru.org.uk
projects@youthcymru.org.uk
Anna Arrieta
Projects and Training Co-ordinator
01443 827840
anna@youthcymru.org.uk
projects@youthcymru.org.uk