Youth Cymru Registered Charity of Loteri Cymru
Who is behind Loteri Cymru?
—
Sterling Lotteries and Charities Trust have teamed up to relaunch Loteri Cymru. Sterling help over 400 charities across the UK run charity lotteries and raffles, and have been running lotteries for over 30 years. Charities Trust are a leading donations management organisation committed to growing charitable giving since 1987.
The beneficiary Charities
—
The new game setup guarantees a minimum of 20% of all lottery proceeds going to charitable causes. They are engaging with a number of charities throughout Wales to secure them as lottery beneficiaries. They plan to change the beneficiaries over time in order to distribute lottery funds more widely and evenly to charities in Wales. In future, it may even be possible for lottery players to nominate a beneficiary!
Youth Cymru a chosen charity!
—
Youth Cymru have been chosen as one of the beneficiary charities of Loteri Cymru which is such an honour.
How do you play?
—
1. Just like the old game, you can pay for your lottery entries by Direct Debit or credit/debit card payment.
2. Pick how many numbers you'd like – it's still just £1 per weekly entry.
3. Receive your own, unique 6-digit lottery number.
4. A six-digit winning lottery number is drawn.
5. Match up your numbers in the correct place in the sequence to win prizes.
– 6 digits in the correct place wins £25,000
– 5 digits in the correct place wins £1,000
– 4 digits in the correct place wins £25
– 3 digits in the correct place wins 5 entries into the next draw
6. Prizes are sent out straight to you, so you don't even need to claim!
More information…..
—
To find out more about Loteri Cymru, beneficiaries and to play click HERE
You might be interested in…
—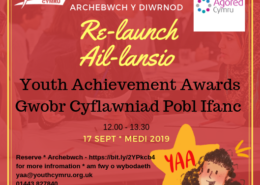 https://youthcymru.org.uk/wp-content/uploads/2019/07/YAA-Relaunch.Aillansio-.png
529
529
Wenna Pritchard
https://youthcymru.org.uk/wp-content/uploads/2019/02/Youth-Cymru-300x195.png
Wenna Pritchard
2019-07-17 11:34:44
2019-07-17 11:34:44
Youth Achievement Awards Re Launch - Gwobr Cyflawniad Pobl Ifanc Ail Lansio