The O2 arena's British Music Experience event space was the setting for the launch of The Big Music Project, an ambitious consortium connecting with young people through their love of music.  including 16 young people from Youth Cymru.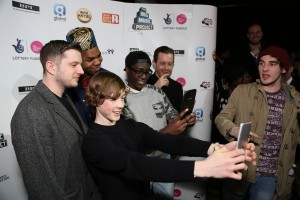 The Big Music Project* will set up 100 music hubs in disadvantaged communities across the UK to:
build and accredit peer education skills amongst young people;
offer young people personal and career development opportunities within the music industry;
create music-based learning opportunities and events in the wider community.
Youth presence
150 young people took part in the Project's official launch on February 17. The day included the chance to quiz industry professionals in a Q&A session, as well as an exclusive 'behind the scenes' tour of the preparations for the 2014 BRIT Awards, just two days before the big night.
The young attendees also had a tour of the interactive British Music Experience at the O2, where members of the British Music Experience's education team ran workshops on the range of job opportunities available in the music industry.
Key messages
Representatives of the key partners expressed their ambitions for the project and the thinking behind it:
Peter Ainsworth, Chair of the Big Lottery Fund, said: "The Big Music Project is one of a number of initiatives we are backing that aim to empower young people to shape their own futures and to play an active role in their communities."
Chief Executive of the BPI and The BRIT Awards, Geoff Taylor, said: "We'll give talented young musicians the chance to compete and perform in front of industry stars and decision-makers. And we'll offer internships in record companies, provide work experience and signpost young people towards training opportunities, so that they may one day find themselves working in one of the many exciting roles in the business."
Stephen Miron, Group CEO, Global summed up: "We passionately believe that music can be a catalyst for change…by providing access to Capital FM, the UK's No1 hit music station, we are well placed to inspire young people to fulfil their potential through our shared love of music."
UK Youth's Interim CEO, Dominic Cotton, adds: "Music is the perfect medium to engage young people. This project will reach and inspire thousands and create tangible opportunities for many."
Grassroots training
UK Youth's focus will now be on recruiting and supporting 1000 young project champions. These champions will set up their own local music projects, working as peer educators, with the aim of reaching a further 10,000 young people. Champions will receive a project planning toolkit developed with the BRIT School to help them plan and deliver their projects which could be anything from running open mic nights to hosting a festival! This will be a unique experience for young people to develop employability skills and gain valuable work experience.
*The Big Music Project consortium brings together Global Radio, the BPI – with its BRITs brand – and the grassroots networks of UK Youth, including Youth Scotland, Youth Cymru, Youth Action Northern Ireland, Rathbone and Myplace. The Project is supported by the BIG Lottery Fund.
Click here for The Big Music Project website.
Twitter: @BigMusicUK
#BigMusic
http://youthcymru.org.uk/wp-content/uploads/2019/02/Youth-Cymru-300x195.png
0
0
Melanie Ryan
http://youthcymru.org.uk/wp-content/uploads/2019/02/Youth-Cymru-300x195.png
Melanie Ryan
2014-02-26 19:46:58
2017-08-31 14:06:05
Major music project under way!