Community Challenge – Money for Life
Funded by Lloyds Banking Group
Enter the Community Challenge
—
Have you got a great idea to inspire your community?
Would you like a £400 grant to bring this idea to life, with an extra £200 towards the Youth Worker's time and support
If you are aged 16-25 enter the Money for Life Community Challenge today!
What will my project be about?
—
Anything you want! As long as you cover at least two topics or skills learned in the Money Masterclasses, (if you have not been through the Money Masterclass please email wenna@youthcymru.org.uk for more details.  You can be as creative as you like. Spread your knowledge of money management in a fun, creative way. Why not incorporate your favourite hobbies and activities to your project? Whether that's music, sport or fashion, you can put your money management skills to the test while doing something you enjoy.
What are the targets?
—
Your project needs to include at least two topics or skills learned in the Money Masterclass
The project should reach a minimum of 12 people in your community
The project will be delivered within 3 months of receiving the grant, by a team of 6-12 people aged between 16 and 25
If you have not completed the Money Masterclasses, get in touch by e-mailing us at wenna@youthcymru.org.uk to find out more.
You might be interested in…
—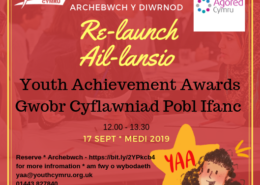 https://youthcymru.org.uk/wp-content/uploads/2019/07/YAA-Relaunch.Aillansio-.png
529
529
Wenna Pritchard
https://youthcymru.org.uk/wp-content/uploads/2019/02/Youth-Cymru-300x195.png
Wenna Pritchard
2019-07-17 11:34:44
2019-07-17 11:34:44
Youth Achievement Awards Re Launch - Gwobr Cyflawniad Pobl Ifanc Ail Lansio